Even Evenki who try their best to carry on their herding culture struggle to do so.
He Lei — likely a distant relative of He Xie, as many are in this tight-knit community — has not seen his reindeer in nearly two weeks and is starting to worry. He swats irritably at the clouds of mosquitoes humming in the forest air and waves a satellite tracking device toward the summer skies, more in hope than expectation.
"Where have they gone?" he murmurs to himself.
He Lei fiddles with the tracker some more, but to no avail. We clamber back into his pickup truck and barrel down another rutted track toward a different part of the forest.
People still talk about protecting our ethnic stuff, our ethnic distinctions. Protection my ass. There's nothing left.
He Lei, reindeer herder
At first, it looks like another false alarm. But then, the faint tinkle of a bell emerges from the trees, followed by a snort, and all at once around 20 reindeer come trotting toward us, tossing their magnificent heads in an attempt to ward off flying insects. He Lei is visibly relieved; he empties a bag of feed onto the ground and leaves the reindeer to their lunch.
Such is the modern herder's life, one of GPS trackers, long truck rides, store-bought feed — and bureaucracy. These days, He Lei must submit paperwork and pass through checkpoints just to see his animals. "We're restricted," he grumbles. "We can't go here, we can't go there."
He Lei is a giant of a man. Broad-shouldered and barrel-chested, he wears his hair in an unkempt tumble and stretches jazzy-colored T-shirts over his formidable belly. His lifestyle is fairly typical of today's reindeer herders: He spends most of his time at home in New Aoluguya with his wife, 2-year-old daughter, and grandmother. His animals remain in the surrounding forest, where they forage for meager amounts of the lichen that's supposed to form the mainstay of their diet. He Lei keeps a cabin in the woods.
Winters are long and bitter. Genhe, the city that governs New Aoluguya, holds the record for China's coldest recorded temperature, a soul-numbing minus 58 degrees Celsius. When the snows come, He Lei often spends several days in his cabin, rearing his reindeer on city-bought feed. Things get busier in the spring, when the doe give birth to lanky fawns. Some summers, He Lei saws off a few antlers and sells them for profit.
Life for today's herders is a far cry from that of their ancestors. Historically, the Evenki lived in urilen, close-knit communities of families linked through the male bloodline. The urilen spent life permanently on the move, setting up camp every few days before heading on to new pastures when they or their reindeer had exhausted local food sources.
Evenki reindeer herders have little in common with their ethnic peers, most of whom work in farming and industry on the wide, open grasslands south of reindeer country. Traditionally, southern Evenki groups had relatively sedentary lives, raising conventional livestock on the region's vast steppes. Meanwhile, reindeer herders lived as seminomadic hunter-gatherers, driving their animals through the remote boreal forests that adorn the slopes of the Greater Hinggan Mountains.
Herders did not kill their reindeer for meat. Instead, they viewed them as pack animals that provided humans with milk and transport in return for food and protection. Reindeer also played important religious roles. When a herder died, for example, the urilen sometimes buried them alongside one of their animals to help them ride up to heaven.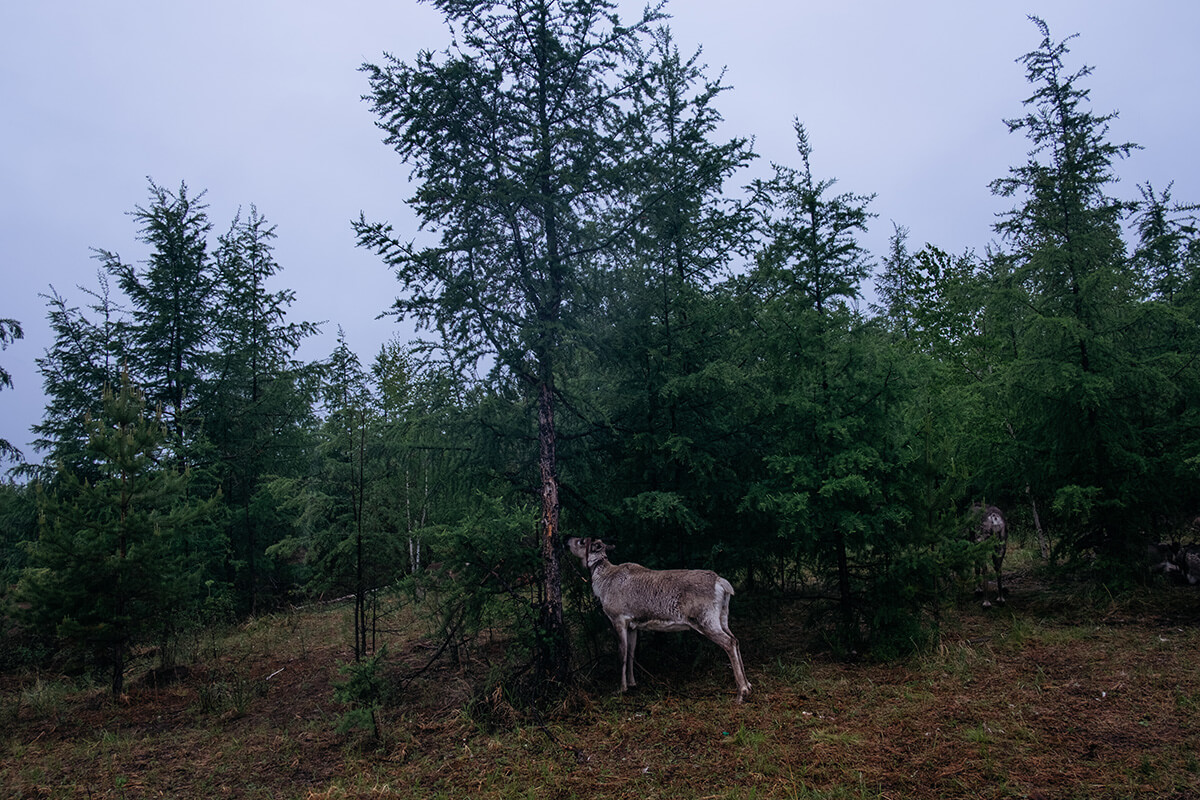 The arrangement gave rise to an intimacy between herders and reindeer that runs far deeper than the bond between farmers and livestock. "I would call them friends," says Lin Hang, an associate professor specializing in northeastern China's ethnic minorities at Hangzhou Normal University. "Normally, the herders would know each reindeer and even have names for them. They would call them every morning, walk with them, and watch them eat. It was a very close relationship between animals and human beings that were sharing the same environment and resources."
Evenki reindeer herders also felt a strong spiritual resonance with the forests they called home. Their religious beliefs held that spirits inhabited everything in nature, and the urilen relied on shamans to commune with them in order to ward off misfortune.
It was more convenient before. If you wanted to go into the mountains, you just went — you didn't have someone telling you to sign this and sign that.
He Lei, reindeer herder
But He Lei has never known that way of life. Since the 1950s, three government-sponsored resettlement campaigns — most recently in 2003 — have put Evenki reindeer herders into permanent accommodation in increasingly urban areas, cutting them off from their former herding grounds and straining their strong spiritual ties to both their reindeer and the forest. The social systems that underpinned their former lives have been superseded by modern housing, modern economies (first planned, then market-driven), modern education, and modern health care.
He Lei grew up in the original Aoluguya — the second government-built Evenki settlement around 250 kilometers from Genhe — and moved to New Aoluguya as a teenager. The government termed this 2003 resettlement "ecological migration," claiming that the policy was essential to protect both the Greater Hinggan Mountains and Evenki cultural heritage.
The state argued that the move would allow a remote, impoverished group of herders to easily access the market economy, earn higher incomes through tourism, and preserve the unique traits of their ethnic minority. But to some Evenki people, it pushed an already-ailing culture into terminal decline.
"What ethnic minority?" asks He Lei. "There's nothing left. People still talk about protecting our ethnic stuff, our ethnic distinctions. Protection my ass. There's nothing left. We don't raise deer; we don't use them for anything. It's gone."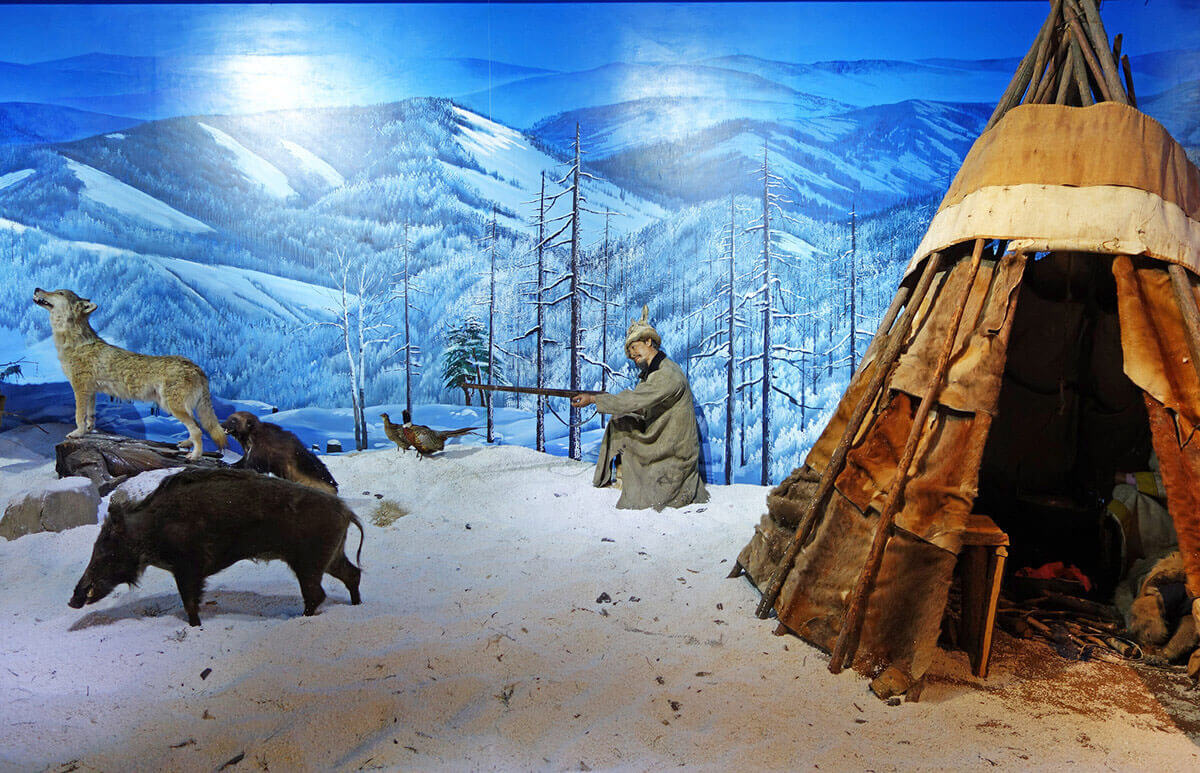 Today, herders are dislocated from their erstwhile pasturing lands, shamanism in the region is virtually extinct, and the local language — a variant of the Tungusic tongues spoken among the indigenous peoples of Siberia and northern Asia that is largely unintelligible to Mandarin speakers — is severely endangered. Reindeer numbers are dwindling, and few young people see a future in herding.
At Genhe's barbecue joints and hot pot restaurants, local Han people frequently invoke the same metaphor to refer to their neighbors down the road. "The Evenki are like giant pandas," one taxi driver says; they are lovable, flawed, and would be extinct save for careful isolation and the painstaking conservation efforts of people around them.
But there is more to this image than meets the eye. "It's an animal in a cage as well," says Åshild Kolås, a research professor at the Peace Research Institute Oslo who has studied China's reindeer herders. "The giant panda has been commercialized, made into a mascot, put into products."
Lin, the Hangzhou-based scholar, describes the results of ecological migration as "mixed." "Although some people would've liked to live with their reindeer for most of their lives, that's not everybody," he says. "In the New Aoluguya settlement, more people have more opportunities for other types of jobs. But the other side is that it cuts off, to some extent, the very close link among human beings, animals, and the environment."
The policy is at odds with the animals' needs, too. Reindeer feed predominantly on lichen, a hardy, slow-growing plant-like organism that thrives in much of the Siberian taiga. But New Aoluguya lies in the southernmost reaches of this ecosystem, where lichen doesn't grow in the abundance that reindeer need. Kolås says that, historically, Evenki herders would never have brought their animals into the region around the settlement. "There's nothing to eat," she says. "They can nibble on things, but they won't survive there in the wild without food being brought to them."
Policymakers initially intended to build enclosures in New Aoluguya where reindeer would be hand-fed, but that didn't work, either. "Reindeer can't be kept in pens; you have to let them roam free," says He Lei, recalling that some animals perished in the immediate aftermath of the move due to a lack of lichen and outbreaks of disease. As the health of the animals deteriorated, officials and herders came to a compromise: The reindeer were released into the surrounding mountains, but their handlers continued to live in New Aoluguya.
As a result, some of today's Evenki herders find themselves in a bizarre situation, periodically ferrying city-bought feed into the forest to sustain animals that would not survive there otherwise.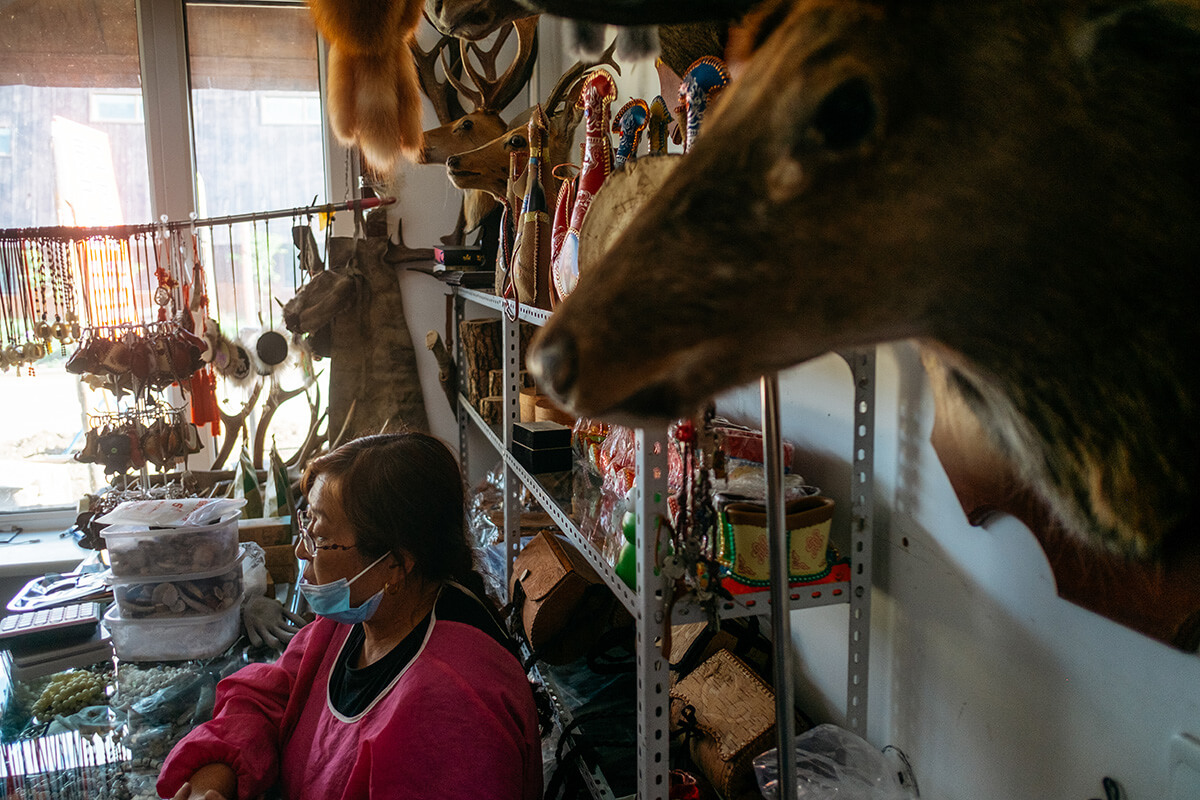 Since 2003, the state has rolled out additional policies in the name of environmental protection. But herders say the new rules are making it more and more difficult to access their reindeer. Their complaints are loudest in the summer, when the local forestry bureau closes off mountain tracks and strictly controls entry into the area to prevent fires. Although herders are allowed in, He Lei must spend several minutes informing checkpoint staff of his intended activities before the barrier is raised. Plans also exist to regulate access by granting licenses to individual herders, he says.
He Lei says many herders are frustrated with what they perceive as excessive meddling by the authorities: "How many years have we lived in the mountains? Hundreds of years — and did anybody set the place on fire?"
The summer calving season is a time when the herd is at its most vulnerable, he explains. "Before, during the calving season, people kept an eye on the reindeer when they gave birth, fearing that they'd be eaten by wild animals," He Lei says, adding that wolves and bears are the main culprits. "But these days, the fire prevention work is tightly managed. You can't go into the mountains, and you can't light fires. The deer can't reproduce properly, because the calves get eaten as soon as they are born. People can't look after them."
Consequently, according to He Lei, reindeer numbers are falling. "If you control everything this strictly, I think all the reindeer will die out," he says. "They'll last another eight to 10 years."
Previously, the Evenki would introduce new bucks into the herd every year or two in order to maintain the quality of the gene pool, he continues. But with so few deer left, individual herds are inbreeding, which can result in decreased fertility, birth defects, and a higher risk of genetic disorders. In addition, the cost of introducing a buck can be prohibitive: He Lei estimates that buying a male outright would cost him 30,000 yuan, but leasing one commands an exorbitant fee, too. "I only make so much money a year," he says, refusing to be specific.
Despite his gripes about bureaucracy, He Lei initially says that life in New Aoluguya is far more convenient than at the remote settlement in which he grew up. "Back then, a car came twice a month. You'd go [into town] twice a month and bring back enough food for two weeks," he says. "Now, you can eat whatever you want."
Moments later, however, He Lei contradicts himself. "Things aren't as good as they used to be," he muses. "It was more convenient before. You had less to worry about. If you wanted to go into the mountains, you just went — you didn't have someone telling you to sign this and sign that."