On a chilly day in October 2017, Long Guoying's motorcycle sputtered out of his home village of Dayujing, in central China's Hunan province, and started down the 45-kilometer road to the town of Alaying. Other villagers from miles around converged in the town center, some carrying children on their backs to help them see above the throng. That day, the town government was holding a lottery to distribute homes in a newly built residential community to the local villagers.
The government is resettling everyone in Dayujing. Most residents have moved to another nearby town, La'ershan, but Long's family instead applied for Alaying, having heard that officials there planned to bring in new companies and compel them to employ resettled people. Long hoped to get a piece of the action: "One of my relatives says there's a factory being built in Alaying, and I could get a job out of it. It's also more convenient for my kids to go to school there."
Until 2017, when a road was built from downtown La'ershan to Dayujing, village residents had to walk two hours from a bus station built on a nearby highway. The Longs' former family home was a two-story wooden structure typical of their Miao minority heritage and was built at the end of a long mountain road overlooking a small reservoir. Bags of grain were piled next to the front door, and strings of corn hung from bamboo poles stretching across the porch. Apart from Long Guoying and his wife, Long Jifeng, it was home to his two children, his elderly parents, and his two brothers.
That autumn day in Alaying, Long Guoying collected the allotment numbers for his and his father's new apartments. Afterward, he lingered by the side of the road, gazing at the new development from a distance, before getting back on his motorcycle and heading home.
Thirty-five-year-old Long Guoying dropped out of school at 15 without graduating. He spent several years doing odd jobs in his home village of Dayujing, before eventually heading to Wenzhou, a city in the eastern province of Zhejiang. While working in a small metal fittings factory there, he met his wife.
In recent years, many villagers in Dayujing have renovated their old homes, Long Guoying says. But he and his wife don't earn enough money in Wenzhou to do the same, and his family can't spare the labor anyway. Long Guoying is the oldest of three brothers: The second-eldest, Long Jianshu, is unable to work due to long-term health issues; the youngest has only just started working after graduating from a vocational college; and his parents are too old.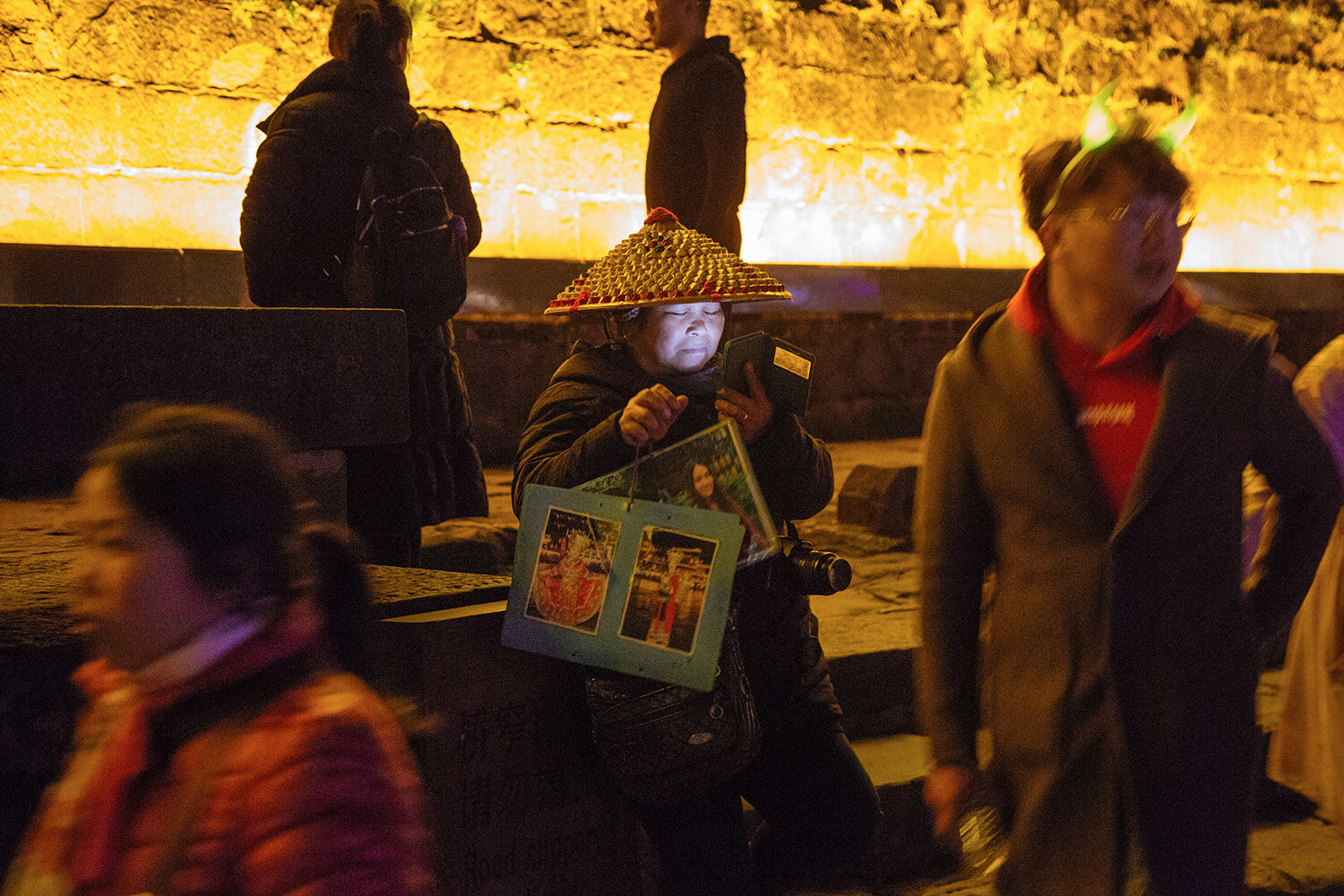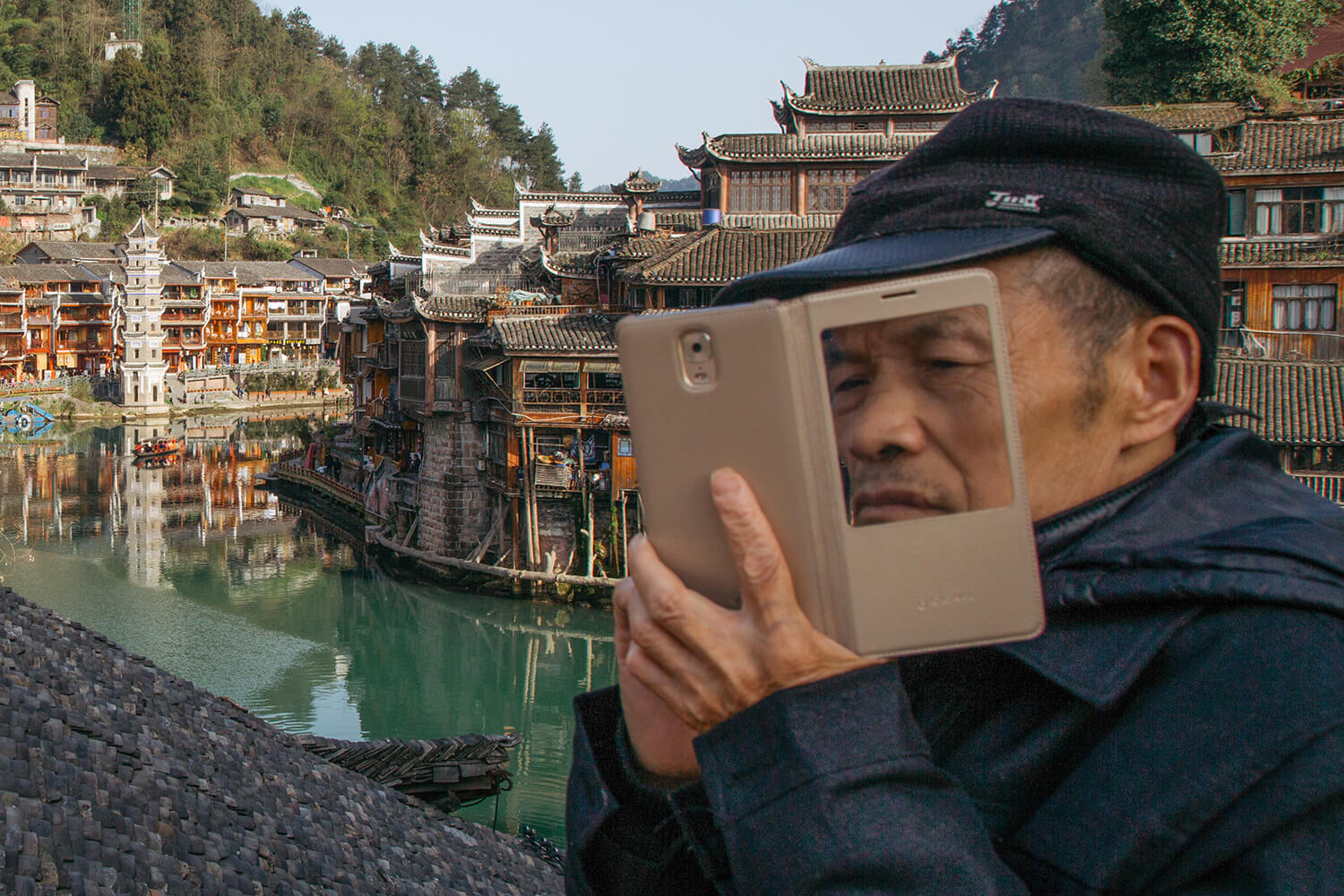 In Fenghuang, the county in which Dayujing and Alaying are located, the government pays a standard subsidy of 35,000 yuan to all families willing to move into new accommodations — most of which are valued at around 100,000 yuan. If applicants agree to have their old homes demolished after relocation and hand the land-use rights back to the state to convert into farmland, they will receive a further 10,000 yuan.
People in the village had to persuade me to move, because we definitely won't return here again.
Long Guoying, villager
Long Guoying raided his savings for two 10,000 yuan deposits on a pair of apartments in Alaying — one for his family, one for his aging parents. It wasn't an easy decision to make. Like many rural Chinese families, the Longs remain deeply attached to their homes and are reluctant to leave. Historically, the land was their economic lifeline. Long Guoying remains highly protective of the family's cornfields: "Our ancestors lived here for generations. People in the village had to persuade me to move, because we definitely won't return here again."
When we visit Dayujing, Long Guoying sits on a bamboo chair at home, his hands clasped together. Long Jifeng sits opposite him; she has spent the morning in the fields, and her rough hands methodically brush the dust off her pants.
In Wenzhou, Long Guoying and Long Jifeng lived with other migrant laborers from the village. Whatever they didn't spend on rent and basic living expenses, they sent home to care for the rest of the family. In a good month, the couple would send around 5,000 yuan back to Dayujing.
Such family dynamics are common in rural parts of central and western China. Traditionally, three generations of the same family occupy a small, often-unproductive plot of farmland. Since the government liberalized the economy in the early 1980s, millions of able-bodied workers have migrated away from rural areas to support their families. The elderly, infant, and invalid are left behind in the village.
Until recently, Long Guoying and Long Jifeng were the only two people in the family who worked. They felt immense pressure to support the household of eight. But in 2016, disaster struck: While working in the metal fittings factory, Long Guoying got a herniated disc in his spine. "The doctor said I couldn't work with it. I'd have to rest," he says. "So, we came home. After that, our financial situation took a turn for the worse: I couldn't do anything, and we had no money. But I had to find something to do."
So, in early 2017, the Longs borrowed money from relatives to buy 100 sheep, pasturing them on a nearby mountain. But, with no prior experience of raising the animals, they botched it. They bought their sheep in spring, when the price was at its highest, only to see the price of mutton fall dramatically in summer and autumn. The family panicked and sold their sheep for a combined 40,000 yuan just before Spring Festival in 2018. After paying back their loans to their relatives, Long Guoying estimates that the family lost around 10,000 yuan from the venture.
As the Chinese government relocates millions of rural residents in the name of poverty relief, concerns circulate around whether the campaign is suited to the needs and experiences of local residents. Although comfortable, cut-price housing provides a quick, short-term improvement for living conditions, it also pushes many families into new locations and industries for which they have little experience.
The most effective way to provide relief is to give people jobs.
Ma Yuxin, former deputy township head of Alaying
Ma Yuxin, the former deputy township head of Alaying, headed up the poverty alleviation campaign from 2015 to 2017. "The most effective way to provide relief is to give people jobs," he tells The Paper, Sixth Tone's sister publication. "Once people are getting monthly salaries, they emerge from poverty very quickly. So, we have an agreement with local employers: They have to provide jobs for impoverished families."
One such company is the Fengfei Crystal Ball Factory, a lighting company established by Fenghuang-born entrepreneurs. Until 2012, Fengfei was based in eastern China's Zhejiang province, but after the provincial government launched a crackdown on dust-emitting small-scale workshops, the company moved, first to the southwestern province of Guizhou, and later to Fenghuang, after the latter incentivized locally born entrepreneurs to relocate their businesses to their hometowns. Fengfei currently employs 600 local workers, 85 percent of whom hail from impoverished households in Fenghuang.