By Shi Yi, Wen Xiaoxiao, and Li Ni
In 1872, U.S. President Ulysses S. Grant signed a law creating the world's first national park at Yellowstone. The move was controversial. Locals argued the park would harm the region's economy. Entrepreneurs lobbied to move the boundaries to aid the hunting, logging, and mining industries. Montana state congressmen repeatedly introduced bills to remove land-use restrictions at Yellowstone.
Nearly 150 years later, a similar dynamic is playing out in China as the central government moves forward with plans to create 10 new national parks across the country. Plans for the new parks were first announced in 2015, and they are due to be officially established by 2020. The aim is to limit development inside the selected areas and protect the integrity of local wildlife.
But the officials charged with creating the parks face enormous challenges. Whereas many of the national parks in the United States are large wildernesses, hundreds of thousands of people live inside the areas marked as the new Chinese parks. These communities are spread across China, and greatly differ in terms of their income levels and ways of life.
Sixth Tone and its sister publication, The Paper, investigated the situation inside three of the parks. In each case, reporters encountered local residents concerned about how the new policies would impact their economic well-being.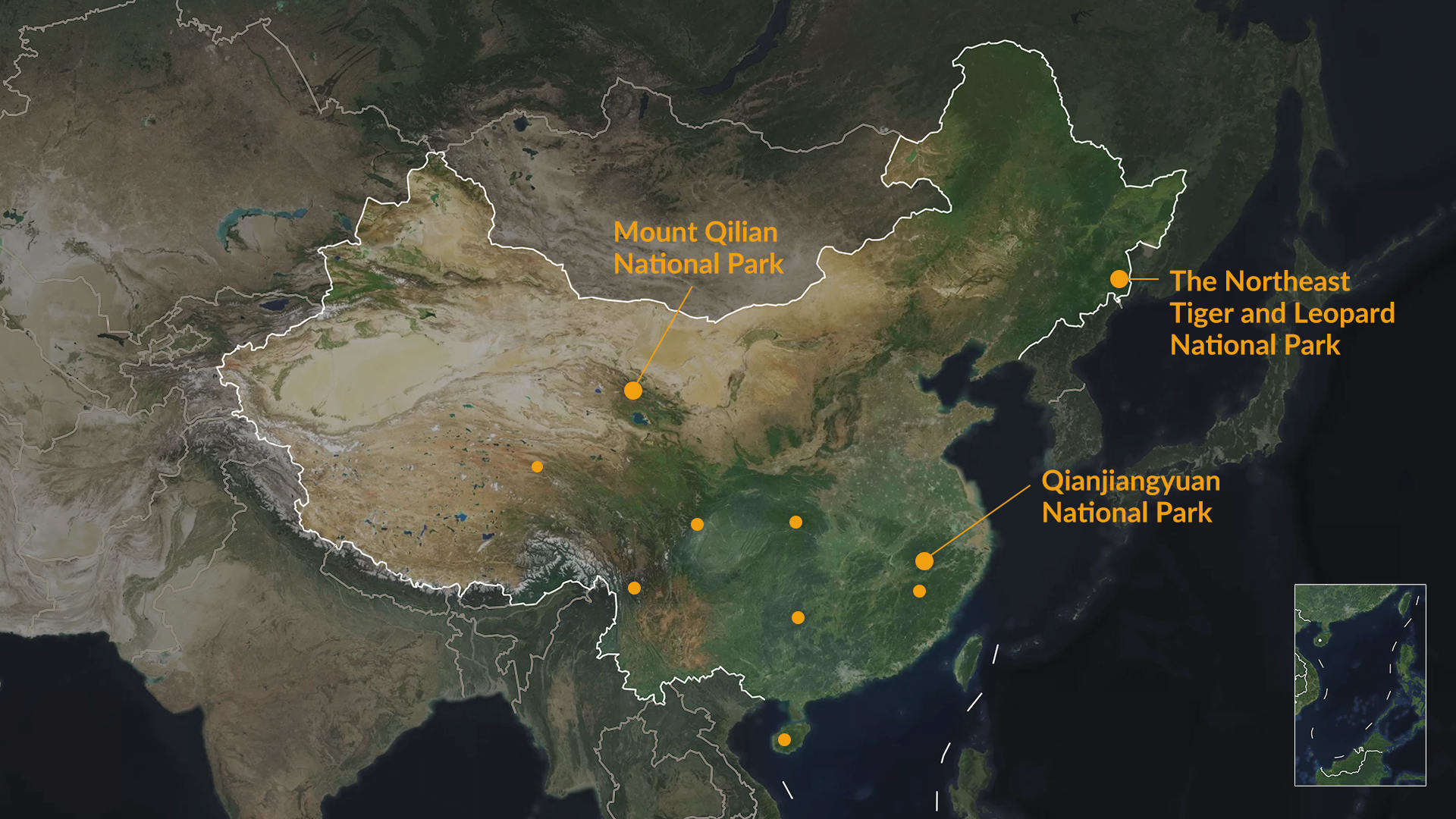 A map shows where China's first national parks, currently in trial operation, are located.
Qianjiangyuan National Park is the only national park of the three on China's highly urbanized east coast. Situated in the mountains of western Zhejiang province, locals previously made their livings from logging but are now turning to tourism. The park, however, has thwarted the area's plans for a new resort.
The Northeast Tiger and Leopard National Park is located in Hunchun, Jilin province, near China's borders with North Korea and Russia. It protects an important migration route for Siberian tigers traveling between the three countries. But the people of Hunchun are struggling to adapt to a new "tigers advance, humans retreat" conservation campaign.
Mount Qilian National Park straddles Qinghai and Gansu provinces in Northwest China. Local herders are poor, but their hopes of changing their nomadic lifestyles are constrained by their lack of education. The new national park is attempting to balance poverty alleviation and ecological protection efforts by hiring the herdsmen as park rangers.
If these projects are to succeed, each local government will need to find a way to promote ecological protection while also safeguarding the interests of the people living inside the parks.